Our Timber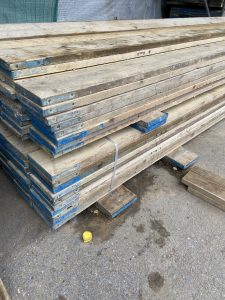 From the beginning I (Aaron) envisaged The Dancing Woodman brand image to be a natural and simplistic one. I wanted the pieces to be rustic in style, stained only to protect the wood and further enhance the already beautiful natural features. With plenty of character and as a sustainable solution, scaffolding boards made the perfect material. I loved knowing each piece would be different to the next, with a story to tell from its previous life.
Repurposing the scaffolding boards meant that I could help to reduce waste, reuse the wood and recycle a now unwanted material, in addition to creating original furniture and homewares.
Once a week, the boards which become the furniture in your home are handpicked to ensure quality. Selecting wood which is suitable to build furniture from, in addition to bearing characteristics to add charm. A fine balance between structure and aesthetics.