FAQ Sliding Barn Doors
Our sliding reclaimed wood doors make a great statement in any home and offer a great partition in any room. We use locally sourced reclaimed wood, with each piece of timber displaying rustic charm and telling its own story of its past life.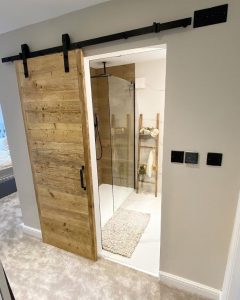 The doors can be made to measure, rails and accessories come included. Our sliding doors are very popular, so we've included below some familiar questions we get asked.
What is the thickness of the wood?
The reclaimed timber we use on these doors, as with most of our furniture, is approx 3.5cm
What is the distance from the top of the door, to the top of the rail system?
Allow approx 15cm. It is also worth noting the 'J' hooks that hang from the rail and the door are approx 30cm in length.
Is there a mechanism to stop the door sliding off the rail?
Yes, each rail will come with stoppers to be placed where desired on the rail
What accessories come with the sliding barn door?
Each reclaimed wood door will be supplied with the rail of your choice and will be fitted with the recessed handle. We will also supply the pull handle too, which can be placed where desired on the door. This will arrive in a separate parcel along with the rail. Please let us know if you require floor guides.
How heavy are the doors, and can they be placed on plasterboard/stud walls?
Each door obviously is different in weight depending on its size, but on average each door can weigh approx 30kg-35kg. We do not recommend them being hung on plasterboard walls, unless the rail can be attached using the studs behind.
How do I know what size rail to choose?
As a rule of thumb, to ensure you can open the door fully, we recommend a size that's double the width of your door providing you have space for the rail/door to open. More information on this can be found on the product listing.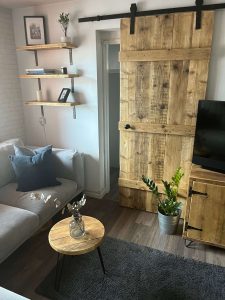 Can you make customisations?
We will of course be open to customisations depending on the nature of them. We will also be happy to stain in alternative finishes if you require, just get in touch.
How will my door be delivered?
For logistical safety reasons, we will send the door separate to the rail/handle and accessories. The rail and pull handle will need installing and attaching upon receipt.
Will my door order come with any instructions?
Yes, each sliding rail will come with these
How far does the door come out from the wall?
Approx 5cm