Meet the Team
We are a small team made up of 3. We hand make every item to order with great care in our workshop based just outside of Southampton.
We all share a passion for beautifully crafted rustic furniture and love what we do, taking great pride in every item we make.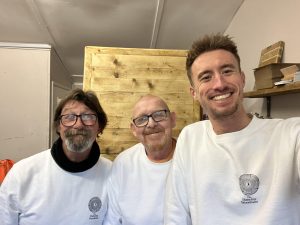 We are –
Jeff (Centre) – workshop assistant. Jeff is a grandfather of 5 and a former scaffolder of 16 years. The main sander of the company, Jeff has been with The Dancing Woodman for just under a year. Jeff loves working with us and is learning more and more skills as he goes.
Perry (Left) – Furniture stainer and dispatcher. Perry joined the company just before Christmas 2022 and has blossomed into the role. Has an eye for detail and takes great care in ensuring all orders are wrapped safely for dispatch.
Aaron (Right) (Me!) – Founder, maker, marketing, customer service. I oversee everything from furniture production, marketing, branding, promoting the business as well as making the tea.
I am responsible for launching The Dancing Woodman back in March 2018, initially as a part time hobby while I worked full time. I have been fortunate enough to turn this into a full time job since the start of 2020 and have loved every minute since!